Branch Manager and Senior Loan Originator from Safety Harbor, Florida, Peggy Bradshaw was just playing a fun game of "Super Bowl Squares" with a few friends and some co-workers. Before she knew it, she, along with a handful of others had raised almost $5,000 for the Tampa General Hospital Foundation.
Tampa General Hospital, like many throughout the country and the world, has faced many unbelievable challenges throughout this past year. Often, these challenges made it difficult for hospitals to provide their employees with important services such as coffee carts or employee appreciation benefits. This generous donation made by Peggy and a few other VanDyk Mortgage superstars has helped bring a bit of light and hope to the hardworking team at Tampa General Hospital.
The donation of $4,525 made to the Tampa General Hospital Foundation will pay for:
Gift cards to the hospital's in-house Starbucks team for employees.
An employee appreciation Happy Hour for the hospital's COVID team who have been working tirelessly this past year to protect and provide for their community.
Custom made t-shirts specific to each team across the hospital's COVID units, who work interdepartmentally, to show appreciation while boosting morale.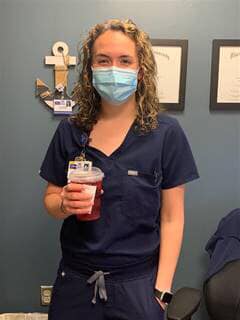 This past year has been tumultuous, to say the least. It has been a year that has left many of us asking the question, "What can we do for our neighbors in need?" and "How can we support our Front Line Workers?" 

Well, this is how. By giving whatever you can, whenever you can to those who are putting so much on the line to protect us and our communities. Those who are working hard every day so we can get up and safely get to work each day. By paying it forward.

We just want to say THANK YOU to Peggy, and everyone who contributed to the Tampa General Hospital Foundation. We couldn't be prouder of our extraordinary employees in the community who continue to do great things each and every day!